Our program has an immense amount of outreach in the community. We aim to bring opportunities to students in our area to partake in any robotics programs. We also aim to introduce students to robotics.
5 years ago, Damien Spartan Robotics (6526D) won the Community Award at Worlds. This was an essay which perfectly sums up our outreach and community and perfectly represents our program's outreach.
Then, last season, we won the Community Award the second time (6526G), this time in the form of a video that tries to capture the vast contributions we have made to the community.
That Community Award Essay
by Ray Sun
Ed. Charity Trojanowski
Damien High School Robotics, 2016
Two years ago, robotics at Damien High School was unheard of. The original two teams of the robotics club, 6526D and E, had undeniably humble beginnings: a closet for a workspace, the most basic of parts, and no aluminum for a game where lifts were critical (Toss Up). Sure, flickers of news at school about our victories in regional and national competition abounded, but robotics remained unknown among extracurricular activities. Hardly honored among the decorated football players and debaters, we strived for two years to establish robotics as a recognized "thing" to do, while expanding robotics beyond just the allure of victory in the VEX Robotics Competition.
Robotics at Damien arose with the Project Lead The Way (PLTW) engineering program there, with the proximity of the two bolstering robotics and STEM education at Damien. Many of the robotics program members are PLTW students who either received their first taste of the excitement of robotics in the second-year class (through an autonomous "harvester" project), or brought their expertise from the club to help out their fellow students. Meanwhile, PLTW students in robotics practice the engineering skills from the program—documentation, modelling, and the design process—with increasingly notable successes of multiple Design and Excellence Awards.
Our club also seeks to expand robotics and STEM education beyond the VEX Robotics Competition through various programs in the community. We run annual summer camps—open to primarily middle school students—teaching the basics of VEX construction, programming, and the VEX Robotics Competition. Many of our current members first gained experience in these camps and have gone forth to become groundbreaking designers and programmers who are passing their expertise onward.  The summer camps have also opened the door to get girls involved in our program. Damien is an all-boys Catholic high school, but the robotics program is a good way to involve girls from our "sister" school, St. Lucy's Priory High School. Integrating girls into our program has been an enhancement for all of us.  
Additionally, we have established our own competitive robotics program with the Parallax Boe-Bot. This year, 35 middle-school teams from 20 different middle schools will compete at our school's first annual Robot Challenge.  The teams will compete in three challenges: line following, maze solving, and a competition of coordinating the robots moves to music. Our Boe-Bot program seeks to inspire more students to explore robotics and STEM, bringing the eternal, singular joy of experiencing one's very own creation leap forth into life to schools which, like Damien, once had no such opportunities.
We roboticists also support the collaborative growth of our own community. Newcomers are never simply thrown into the hubbub of competition without introduction through summer camp and hour-long training sessions led by veterans. Beyond such training at Damien exists remarkable inter-team support, with all teams sharing the results of experiments and programming techniques. An exemplar of our camaraderie is a tradition of giving impromptu whiteboard lectures, veterans' soliloquies on anything from elementary PID to chassis design to calculus to anyone willing to listen. 
With the momentum from our recent victories at the California state championships (and the minor achievement of qualifying for world-level competition, unprecedented among all competitive teams at Damien), and potential triumphs at the CREATE U.S. Open and Worlds, we hope to expand the impact of our program further, bringing robotics to more students while deepening the support and camaraderie within our robotics community.
This is 6526G's entry for the 2020 Community Award Online Challenge Sponsored by Google. In this video, we highlight the multiple community outreach Damien Spartan Robotics participates in. We follow the students as they discuss the multiple STEM programs Damien has started throughout the years and how these programs have impacted the community. From past collaboration with St. Lucy's all-girls High School, to Annual Summer Camps, and Middle School VEX IQ Grant programs, the Damien Spartan Robotics program has a huge impact on the community. Then, the students discuss the plans for the future of Damien Spartan Robotics outreach as they expand beyond the country, to the rest of the world. Special thanks to all the schools who participated in these outreach!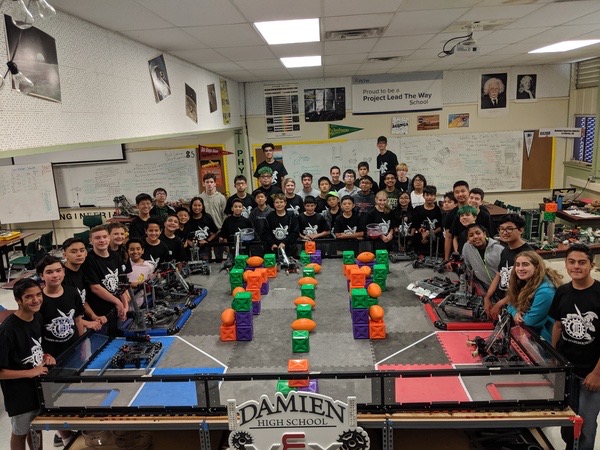 Our outreach started back in 2016, when we started doing the annual summer camps at Damien High School. Since then, we continued doing this annual summer camp every year. We invite 7th and 8th graders to our school to partake in a 1-2 week summer camp. We introduce them to VEX robotics, showing them how to code and build. This summer camp is ran by our robotics team. This gives our students the opportunity to interact with aspiring engineers.
Along with our summer camp, we also started our BoeBot competitions for middle schoolers. It is our own mini competitive robotics for middle schoolers. We would use the Parallax BoeBots for this competition. Then we would give these middle schoolers challenges to complete, such as a maze. This is all code based. We did this for 3 years, until it was replaced by our VEX IQ program. This BoeBot competition paved the way for our VEX IQ grant program.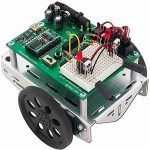 VEX IQ Middle School Grant Program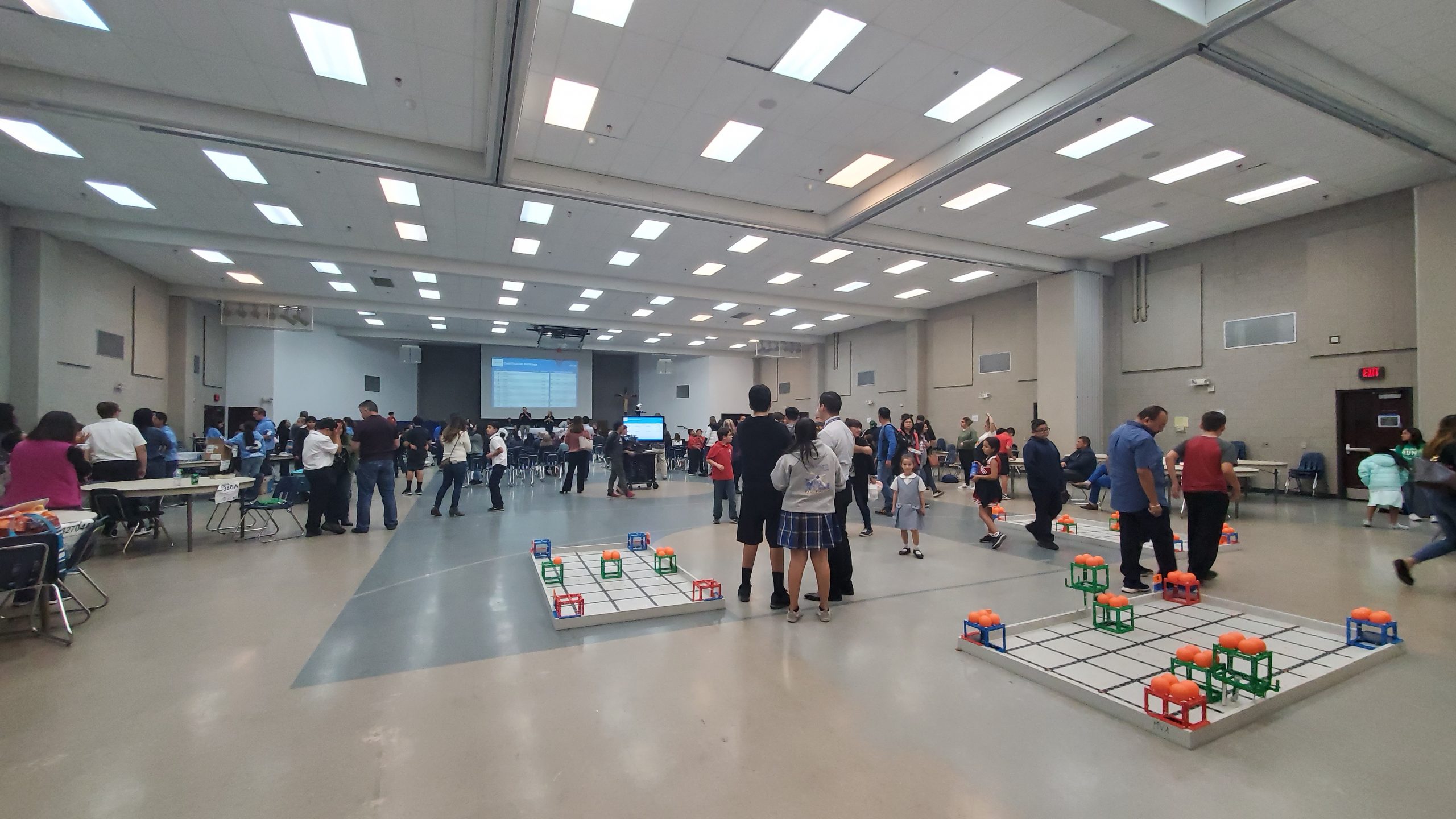 The VEX IQ middle school grant program is a new program we just started this year. We gave out $2,000 to 10 different schools so they can start their own VEX IQ program in their school. With this money, we got them robot kits and a full fields in their schools. We then helped St. George school to host a League tournament for these teams. Damien High School will eventually host a tournament in February for these teams. By doing this, we were able to start-up 10 different robotics teams throughout the area.
Tournament and State Championships Hosting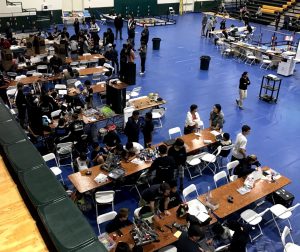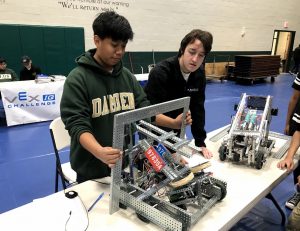 Ever since 2 years ago, we started hosting an annual Damien Spartan Robotics tournament at our high school. Our first year hosting a tournament was during the In the Zone Season. We host 2 tournaments in the weekend, one for High School and one for Middle School. This is a perfect opportunity for students to volunteer and experience running a tournament.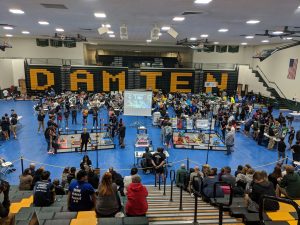 Additionally, we also host the States Championships ever since last year. We are happy to be able to host the VEX EDR championships for both Middle School and High School and to host the VEX IQ championships for Elementary School and Middle School. In this event, students also volunteer during the State championships. Check the even section on the home page for information on our States and to sign-up.
Looking ahead, we are excited to announce that we will be sending students to Croatia so we can start up robotics and STEM programs over there. We will be donating some of our equipment over there so they can be able to do robotics. Right now, STEM opportunities in Croatia are very limited ands children over there are not getting enough exposure to these types of programs. Through this program, children in Croatia will be able to get opportunities to partake in robotics and learn more about the STEM field. We hope to encourage more participation in robotics, not just within our country but around the world.
We will continue to host tournaments in the years to come. We will also keep on supporting the VEX IQ middle school teams so they can be successful in the next few years. Summer camps will keep on being offered every year for Middle Schoolers to participate in.
Interested to join our program?
To join the Damien Spartan Robotics program, a student must be attending Damien High School in La Verne. If you are interested to find more information on Damien High School, check the school website at https://www.damien-hs.edu
If you want to sign-up for any of our summer camps or outreach programs, check the robotics page at the school website at: https://www.damien-hs.edu/apps/pages/roboticsoverview