This program would not be possible without our coaches and mentors. They work so hard to help our teams and we are thankful for all the work they put into the program. From competitions to outreach events, our coaches work tirelessly to make sure everything is a success.
They are what makes this program possible and we are ever grateful for their support of our teams.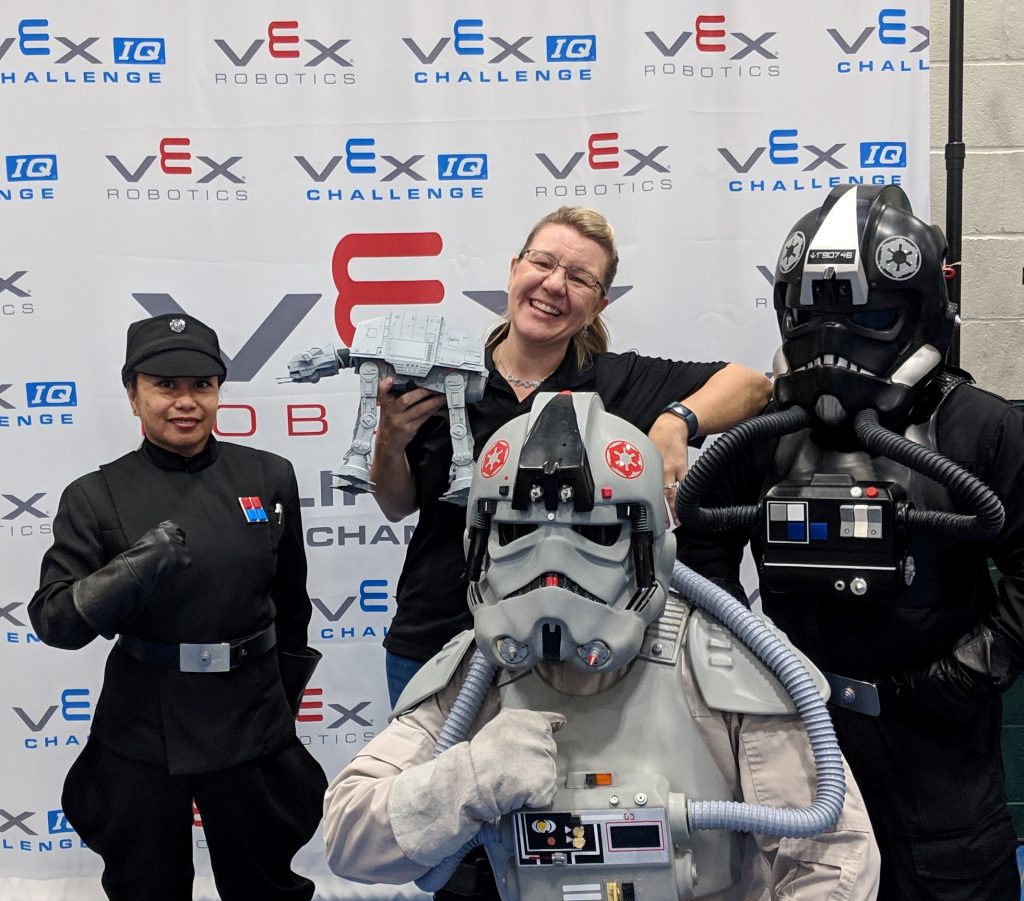 Head Coach / Program Founder
Name: Mrs. Charity Maricic
Years in Our Program: 2013 - Present
About: Mrs. Maricic is the head coach of the Damien Spartan Robotics Program, the Computer Science and Engineering Department Head, Project Lead the Way Coordinator, and Student Spaceflight Experiments Program (SSEP) Coordinator at Damien High School. Mrs. Maricic has a Master's Degree in Physics and has over 15 years of experience in education.  She is the original founder of Damien Spartan Robotics in 2013 and has been instrumental in the growth and success of the program.  Mrs. Maricic started the robotics and engineering programs at Damien High School by writing grants and continues to fund both by hosting robotics events.  She dedicates hundreds of hours to the full growth of the program including outreach to middle schools through summer camps and recently developed a grant program for middle schools to start up a new VEX IQ robotics program.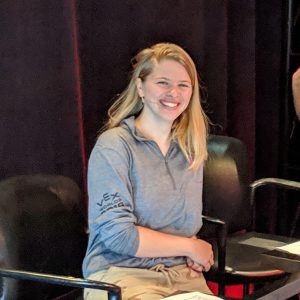 Assistant Coach
Name: Paige Jodoin
Years in Our Program: 2018 - Present
About: Paige Jodoin an assistant robotics coach for the Damien Robotics program. Paige is currently working on her bachelors in Mechanical Engineering at Cal Poly Pomona, but her experience in competitive robotics spans back to 7th grade where she competed in FIRST LEGO League for two years. She then competed in Vex Robotics on her high school team for three years; for her fourth year of high school she started her own Vex team where she went on to win the 2017 Build Award of the Research Division and received an interview for the CBS Sports coverage of Vex Worlds 2017. In addition Paige has competed in various STEM related competitions such as QUICKScience, Science Olympiad, Women's Hackathon, and CodeDay. Along with coaching, Paige also work for Sweetwater School District in Chula Vista, CA as a referee for their Vex Robotics tournaments and leagues. Furthermore she has begun to expand her community outreach in Vex Robotics by helping out at other events with whatever they may need as well as sharing her knowledge with other coaches, competitors, and event partners.
The Damien Spartan Robotics is from Damien High School, an all boys school in La Verne. Damien High School has been participating in the VEX Robotics Program, specifically VEX EDR, for 7 seasons now (the first being the "Toss-up" Season).
This program was started by our current head coach, Mrs. Charity Maricic. It was started in an effort to introduce a robotics program into Damien High School, something they have never had in the past. With the help of our principal, Mrs. Maricic was able to start-up the program. Thus 6526 was born.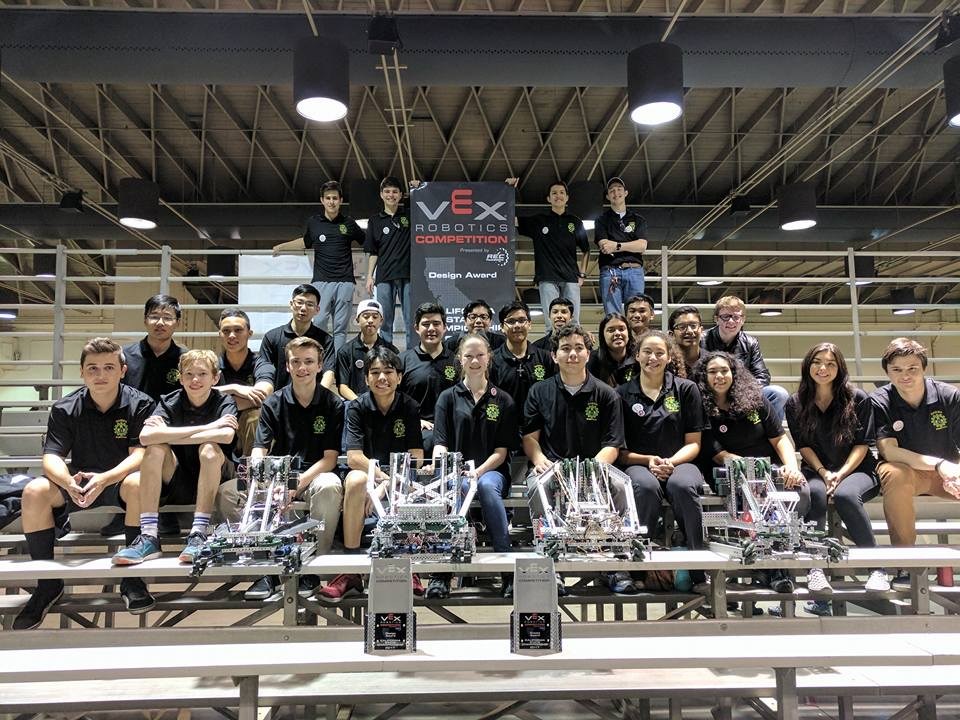 Our coach chose VEX robotics to be our competitive robotics team because it perfectly complements the 4-year PLTW program offered at Damien High School. VEX Robotics was the perfect start to our robotics program.
Our program consists of 6 teams: 6526D, 6526E, 6526F, 6526G, 6526H, and 6526X. All our teams are made up of a diverse group of Freshmen, Sophomores, Juniors, and Seniors.
Since then, we have been a consistently strong program every year. We are proud to boast a total of 69 trophies so far among our teams. We look forward to the future of our program and what it could bring for all of us here at Damien High School.
Our program values teamwork and dedication above all else when it comes to robotics. This program gives us the opportunity to gain experience with working with other people, practice the value of sportsmanship, and participate in friendly competition with others. We make sure we retain these values, not only during robotics, but also outside of school. The main goal of the Damien Vex Robotics program is to teach these values.
When looking for future roboticist to join our program, we don't exclusively look at skills with robotics. We want to see a drive to learn and succeed. Even if a person is inexperience with anything engineering, we want to see students who is willing to learn and take charge in getting familiar with robotics and the program.
Everyday in robotics, there is always something new to learn, so we hope to gain a lot of experience and expand our knowledge of engineering and to hone our problem solving skills. Our goal is to learn a lot about coding, building, and more.
For competitions, we want to do well in them and qualify for the California States Championship, and then the Worlds Championship. Hopefully, we would also want to qualify for Nationals. Another one of our goals is to do well in skills and get the judged awards in the competitions.
We look forward to interacting with the VEX robotics community and sharing our ideas a with each other. Robotics is a great opportunity to meet other people who share the same passion about robotics as we do. We all look forward to this season and what it could bring for us as a team.
The Damien Spartan Robotics program is one of the teams at Damien High School. To be a member of this program, a student must be attending Damien High School.
Damien High School is an all-boy Roman Catholic high school located in La Verne, California. It is a highly rated school, ranking 16th among all public and private schools in the US (top 3%). It is named after St. Damien of Molokai, a saint that embodies the spirit of service towards others. The school's mascot is a Spartan.
It's diverse community and the class options at Damien makes it one of the best high schools in the area. It excels in academics and extra-curricular activities. Damien's sports teams are known throughout the community and other clubs are very strong.
To learn more about Damien, visit the official school website at https://www.damien-hs.edu
Hear from current robotics members on why they love being part of the Damien Spartan Robotics Program.
The robotics program here at Damien is very interesting. The challenge of it is exciting, and it is a great activity to participate in. You learn to work together in a team, to solve problems, and to build and program. I would recommend this to anyone interested in engineering.
- Henry Pfutzenreuter (Team 6526D)
My time here at Damien Robotics has been amazing. I always feel so welcome and everyone always encourages each other to practice driving, building, even coding. I feel that because of all the learning and encouragement from others, I was able to understand many things, allowing me to improve my robotics skill.
- Issac Magallanes (Team 6526D)
The Damien Robotics program has taught me a lot of useful skills that could be vital later on in life. It's definitely something that I've been looking forward to and regret not doing it my freshman year.
- Nathan Cera (Team 6526E)
Robotics is an interesting and fun program to participate in. It is an honor working here, learning teamwork and engineering along the way. I have had good experiences working with my team. I would urge and recommend anyone interested in robotics to join this program, especially those who plan on pursuing a career in engineering.
- Gabriel Gadia (Team 6526G)
The Damien High school team has been a decision I do not regret. I have learned many engineering and teamwork skills while participating in the program. It allows you to develop many essential life skills you could not develop anywhere else. I would recommend this program to anyone who is interested.
- Omer Kaissi (Team 6526H)
The Robotics program has taught us much, such as team working skills and communication skills. I do not regret joining this big family.
- Yihong Zhu (Team 6526H)
The Damien Robotics program is dedicated, strong, and always innovating. We are constantly trying to find ways to improve ourselves. Whether it is our robots or our team bonds. No matter what, we are consistently coming up with new ideas to strengthen ourselves.
- Lorenzo Scaturchio (Robotics Alum; 6526G 2014-2015; 6526F 2015-2016; 6526E 2016-2017; 6526D 2017-2018 )