December 15, 2019
The VEX IQ Experience
Written By Cody Garcia (6526G Member)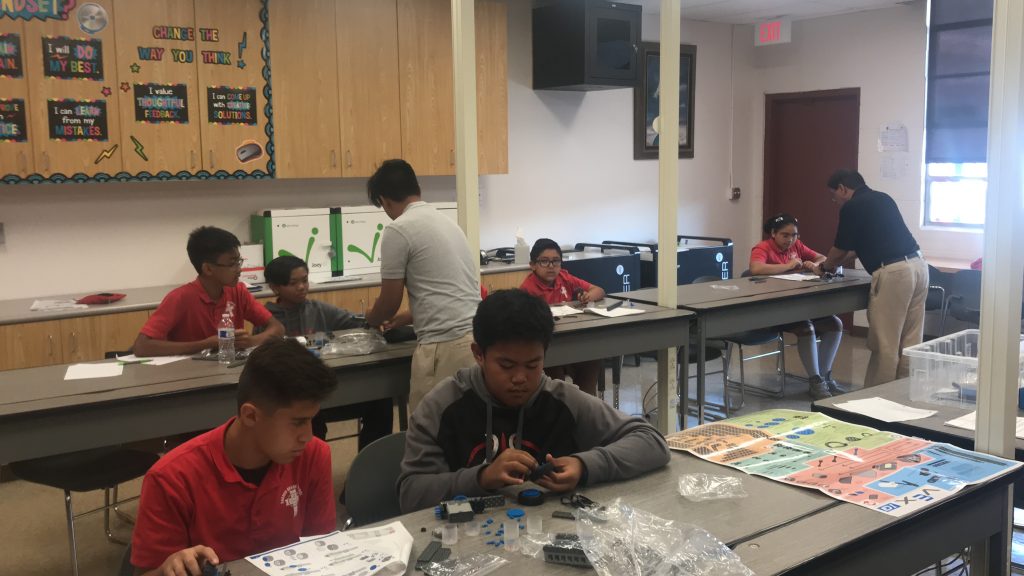 Cody and the coach for SHPS VEX IQ as they help the students build their robots.
I am Cody Garcia, and I am one of the many Damien Robotics students that help coach middle school VEX IQ teams started by Damien High School. The Damien Robotics Program gave out grants to ten local middle schools to start their own robotics program with two VEX IQ teams. When I heard that my alma mater, Sacred Heart Parish School (SHPS), was one of the lucky schools to receive a grant from Damien, I was overwhelmed with joy and excitement. It was then that I decided to become a student coach for my alma mater. Whenever I would be free or not busy with my own robotics team, I would go to SHPS to help their main coach, since VEX IQ is so similar to our (type) of robotics, VEX EDR.
I would help out VEX IQ teams on most Mondays and Fridays if they have a scheduled meeting that day. SHPS started their program around September 2019 and we've been meeting since then. When the program started, all the students were new to VEX robotics, with no veterans to help. Therefore, it was most challenging in the beginning, with only the coach and student volunteers teaching them the basics. We took around a month just to teach the kids about the program and engineering in general. After that first month, coaching was more relaxed, for we gave them a lot of freedom to work. As a student coach, I would mainly be there to keep the students on task and if they have any problems or questions, they would ask me. By the time November rolled around, the students were ready for their first league competition.
Damien, with the help of St. George, is hosting a league for all the teams that the Damien Robotic Program helped start. Two of the three days for the event has already taken place, but I was only able to attend the second one. At the competition event, I would volunteer to help out with check-in and cleaning up when the event is over. I would restrict myself from volunteering as a referee or a judge at these competitions to avoid being biased. However, after check-in, I would go back to coaching the VEX IQ team I have been helping unless needed for other things. 
I feel like helping out these VEX IQ teams was a great experience for me. I won't lie, sometimes the kids would test my patience; however, in the end, I feel like coaching allowed me to grow as an engineer and view VEX robotics in another perspective. I believe that this program has not only helped me and opened my eyes but also gave the students a sneak peek at engineering and robotics. To me, this was an amazing opportunity for the students and I would have enjoyed something like this during my years at SHPS. The season is not over yet, so I hope to see these students' hard work take them places because I see so much potential in them. Many of the students I helped coach this year plan to come to Damien High School and be a part of our robotics program, so I am excited to see them.